3 BED — 2 BATH — 1,200 SQUARE FEET MAIN FLOOR — BASEMENT FOR STORAGE
GARAGE CUSTOMIZATION — MAIN FLOOR LAUNDRY

Homes for Iowa homes are classic 3 bedroom, 2 bath ranch houses with main floor laundry, basement for storage, solid wood cabinets, vinyl siding, and quality components. There are several customizable aspects of these homes like the garage size and flooring. This is a solid stick built home with 2′ x 6′ walls, engineered trusses, and 24' x 50' home footprint (1,200 square feet on main level). Homes are pre-built and delivered to your house site in one piece.  
The home can be customized to your family needs. Region 6 Resource Partners can help you through every step of the process to access your new home. Region 6 is a governmental agency that is working in partnership with local cities and counties to help people like you access a new home.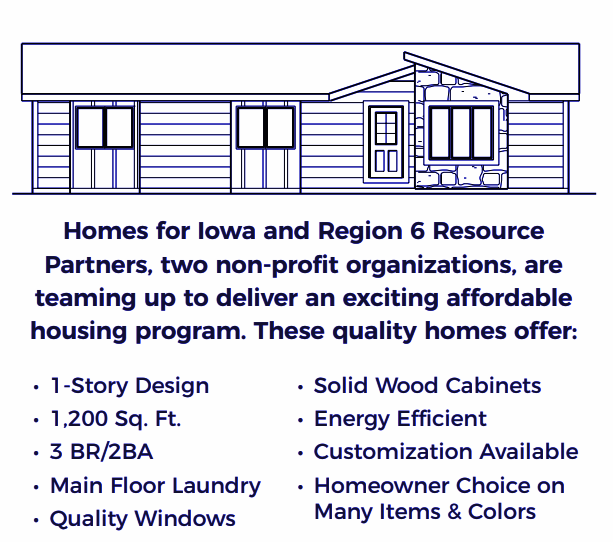 Are you interested in this home? View our HOMES FOR IOWA FACT SHEET to learn more about what is needed to order a house. You can also visit https://www.homesforia.com/ for more information. Give us a call to find out if Homes For Iowa is right for your family. We are here to help. For more information contact Marty Wymore at 641-752-0717 or mwymore@region6resources.org. 
For more information about Homes for Iowa, go to https://www.homesforia.com/. Region 6 Resource Partners is the sales representative for Homes for Iowa in Hardin, Marshall, Poweshiek and Tama Counties. Region 6 can also help you arrange the building process on the home site for you.