Welcome to Region 6 Resource Partners 
Region 6 Resource Partners (formerly Region 6 Planning Commission) is a voluntary association of local governments established in 1974 to provide member communities with professional services in the areas of comprehensive planning, access to federal and state transportation funding, housing assistance, public transit services, and grant writing and administration.
Membership is open to any local government in Hardin, Marshall, Poweshiek, and Tama Counties. To maintain membership, local governments pay annual membership dues.
Benefits of membership include:
Access to services that can minimize community costs and maximize services
Staff to provide skilled and effective grant writing and funding packages at zero or nominal cost
Pooling of resources with other communities to gain access to services
Staff to provide professional advice and planning for community outreach
Staff and technical support for public transit services including Peoplerides dispatch and transit management
Staff support for regional planning activities
Access to regional funding for transportation improvement and enhancement projects
Administrative support for Region 6 Housing Trust Fund
Region 6 is the designated Economic Development District for the four county region.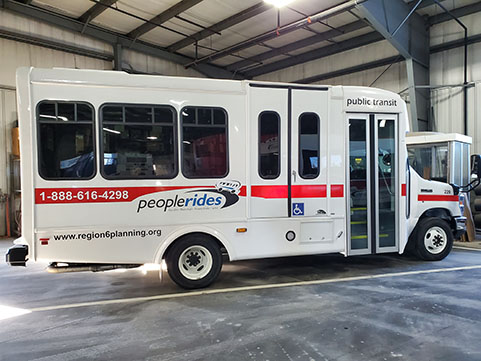 Peoplerides
Peoplerides was established in 1974 to provide low-cost transportation for trips that either originate or end in Hardin, Marshall, Poweshiek, and Tama counties. Peoplerides services are open to the general public, including persons with disabilities. Peoplerides drivers are licensed and trained to provide a safe, reliable, and comfortable ride. If you need a ride, click the Peoplerides logo above for more information about scheduling a ride.

To learn more about Peoplerides, explore our website or contact us using the information in the "Contact Us" tab. Region 6 Resource Partners and Peoplerides look forward to working with you and your community!
Please explore the menus to see what Region 6 can do for you and your local government.

If you would like more information about the services Region 6 provides, please contact Executive Director Marty Wymore at (641) 752-0717 or mwymore@region6resources.org